Simon Guggenheimer became a physician and on 15. August,1899 he married Regina Sara Gutmann born 27. Febr, 1876 at Burgstallstrasse 5 Gunzenhausen. Regina was the cousin of Jakob Wassermann, who later became known as an author.
At first Simon practiced in Dinkelsbuehl, then he moved the family to Bad Neustadt a. d. Saale, where they stayed from 1904 to 1941. In 1941 they emigrated to the USA.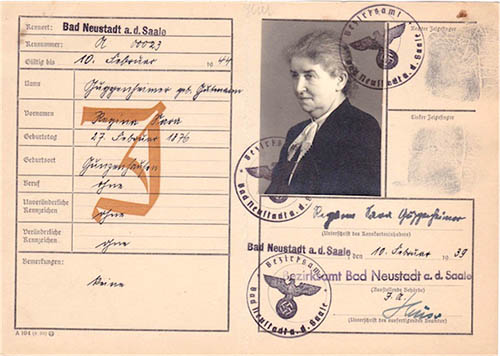 On 1. Sept, 2003 Mr. Shimon Ansbacher of Israel sent the following e-mail to the Neustadt/Saale city chronicle:

The End of the Jewish Community in Neustadt/Saale
... In September 1939 the remaining 12 Jewish men in Bad Neustadt, (incuding the 67 year old physician Dr. Guggenheimer) were forced by the city government to clean up the Ingebrandsiedlung (a housing development) , which included sweeping the streets and emptying the cesspools. It was bitterly cold that January.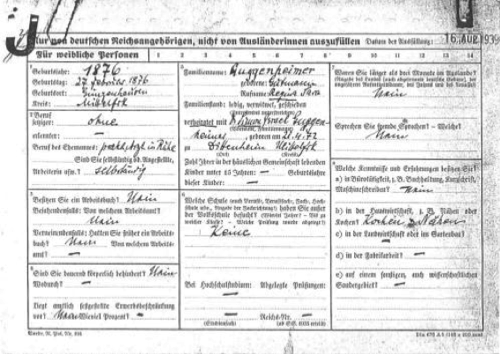 ... Dr. Guggenheimer was the last Jew in 1941 who got away and arrived in the USA by way of Cuba. He had received many secret donations of goods and money. Christmas 1940 someone had sent the Jewish physician an anonymous package that contained a magnificent book of psalms in German translation, and a gift of money. The anonymous sender included a note:
'I wish to express my sincere thanks for all the good you, as the physician, have done for your patients, especially the Christians who came to you when they were ill. I hereby wish you holidays full of grace and a blessed new year?'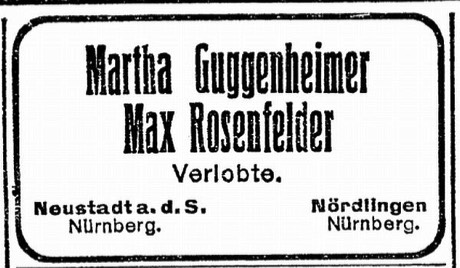 Engagement of Martha Guggenheimer to Max Rosenfelder.
1924